Mobile Commercial Property Searching
In October 2019, in the 'before the world turned upside down' time we at NovaLoca conducted research into the amount of commercial property searches made on mobile phones versus those on a desktop, as we have done in previous years. Now we are slowly coming through the pandemic we thought it's time to take another look and see what or if any impact the past year has had on these searches.
The look at our Google Analytics in October 2019 revealed that over half of our users (59%) were searching from mobile devices. Going further back to November 2014 the figure was just 40% for property searches on mobile. Now in March 2021 our mobile traffic is at 68%. The pace of change certainly seems to be shifting fast.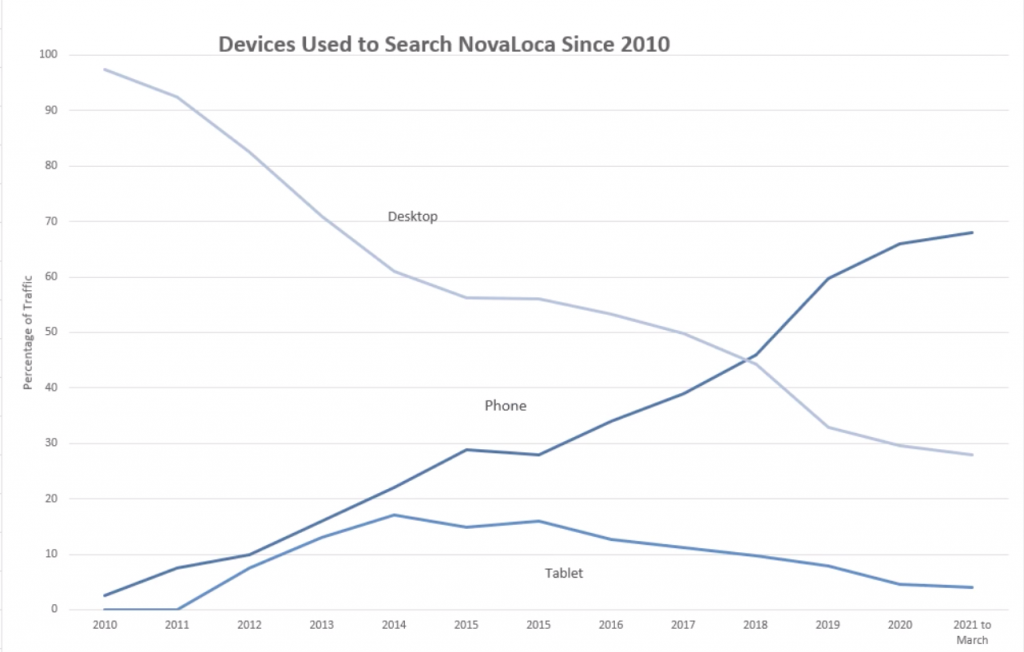 For a time in the first half of 2020 as people began working from home it was reported that desktop use overtook mobile browsing but our statistics seem to reveal that blip is well and truly over. As phones and the mobile data infrastructure continue to improve it is likely the amount of mobile data we consume in the UK will keep continuing upwards. 
Our March analytics also reveal that our largest website audience is in the age range of 25-34 accounting for 28% of our users. This age group was revealed as the biggest users of mobiles in our 2019 blog but they are now being slightly overtaken by 16-24 year olds. It will be fascinating to see if this makes any difference on our figures.
The iphone continues to take the top spot as the most used smartphone as it has done since we looked at this in 2014 with the Samsung SM-G973F Galaxy S10 being the most used non apple device.  
With this level of mobile usage it is now essential to have a mobile responsive website. NovaLoca were on the case with this back in 2015!  And we can create you a mobile responsive agent website. If you would like more information visit the ZipBox website, call us on 01767 313380 or email zipbox@novaloca.com.