Last Mile Logistic Locations
Last mile logistics refers to the last leg of a delivery journey which takes place from the distribution center to a customer's doorstep. It is a phrase that has become increasingly common because it is linked with the rise of e-commerce and customer expectations of next day delivery. 
Therefore choosing the most efficient location, close to the journey's end, has become a major consideration for companies. Factors that determine a good location are: affordability, accessibility and available workforce. The location also needs to be close to a transportation infrastructure which can be challenging in more rural areas. Rural locations have also come to the forefront as the pandemic has seen a lot of people relocating to the countryside as they work more from home. In these areas, delivery points can be several miles apart. Route optimization is crucial.  
Although location is considered more important than building type, an ideal style of distribution building is one that has enough docks for all required vans and lorries to load up. 
 It remains to be seen whether technology will have an impact on last mile logistics locations. Sustainability is also becoming a more important consideration for customers with many firms looking to use electric vehicles although these do not have much range in rural areas. So this may be another factor in choosing a location. 
We have many ways to search NovaLoca to find an ideal base for logistic use. You can enter the town or postcode in the search box on our main page and refine the search for a specific property type.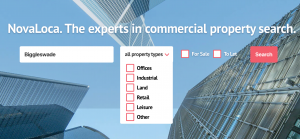 Once you reach the results page you can refine your search further by square feet or square meters and keywords. Keywords are useful if you are searching, for example, a  specific business estate in a location. 

We do also have the option to search by our business park directory, or region or even by company or agent name affording you many opportunities to choose the most efficient location for your business.