Creating Timelapse and Cinemagraph Videos
We've previously discussed in this blog how highly social media ranks video which is all very well but what type of video should you be creating for your business? And is it possible to produce said videos while working from home or in unusual circumstances? I decided to find out. 
Armed with just my iphone I used my daily walk to see how easy it was to capture and create two of 2020's trending micro video formats: Timelapse and Cinemagraphs.
Of course it is important to consider which type of video is going to be best for your own brand to achieve its goals. It doesn't matter how trendy something is, if it isn't a good fit it's not going to generate any interest from your audience.
Timelapse videos
Timelapse videos are films that are recorded over a period of time, sometimes hours and then played back at a fast speed. They are good for showing moves or changes such as building work in progress, people doing their work, or a journey, perhaps showcasing a town or city. 
The iphone 5 upwards has a built in time lapse camera shooting mode.  It was very easy to use. Just point and press the record button. I recorded for 20 seconds or so as I walked. Every 6 seconds of recording will result in 1 second of time lapse footage. You can see the results played back immediately. I could see that if you wanted to capture something over a longer period of time you'd probably want to use a tripod to keep things steady.  
(Click image for video footage)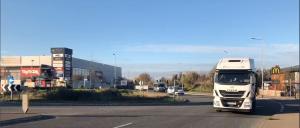 I then tried the same style of video using an Instagram app called Hyperlapse. Exactly the same ease of use. I opened up the app and pressed a white button to record. Of course the additional benefit here is then you can upload straight to Instagram or Facebook. I tried video in both landscape and portrait as vertical video is how most of us view content on our phones. 
(Click images for video footage)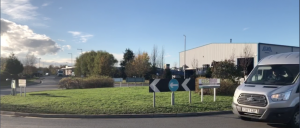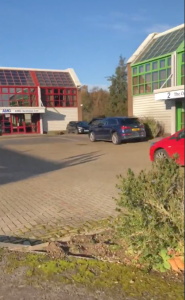 Cinemagraphs
Cinemagraphs are a more artistic version of the old internet favourite gif in that it is a looping image. But only one part of the image moves. Why would you use them? They are a chance to show your brand's style and are a good opportunity to make the audience focus on an element. Also people just like to look at them. They are engaging and very creative. 
This type of video proved to be a little more tricky to produce and it does require the use of Adobe Photoshop (you can get a free 7 day trial ). However I got there in the end and making mistakes is all part of the learning curve so they say!
I ventured as far as the garden this time and recorded some plants moving in the wind with the plan of isolating just one branch moving. My footage uploads straight to Google Photos which I can then download on to my laptop and import into Photoshop. I must confess to not using a tripod and in hindsight I probably should have.
I followed this Hubspot tutorial for working on the footage in Photoshop. I will say when using the brush to create the mask that will reveal only a small portion of motion it can be very tricky to see clearly. 
I then discovered that the footage I had filmed had too much movement in it and the background was too busy. Leaves were clashing into other leaves, and buildings behind were not steady (that's my fault for no tripod) and so it was impossible to create a clean area to cut out and leave everything else static. (enter sobs of frustration here!). 
Eventually I turned to a piece of film I had taken while on a staycation of a waterfall which fit the bill for the purposes of trying out the tutorial. It has movement in sections that could easily be outlined and had some static surroundings. I don't think the end result is completely successful as the start and end point of the loop don't quite match up but it at least allowed me to understand what type of footage works best.
(Click image for video footage)

If you fancy some cinema inspiration for your own cinemagraphs take a look at these examples and if you try either of these styles let us know how you get on!