Market resilient but quality counts, says Bromwich Hardy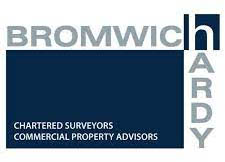 Market resilient but quality counts, says Bromwich Hardy
The commercial property market remains resilient – but quality has never been more important, leading independent specialist Bromwich Hardy says.
Bromwich Hardy founding partner Tom Bromwich says deal volumes are holding up against last year despite the challenging economic background and that the quality of accommodation remains key across both industrial and office sectors.
Tom said the Coventry-based agency had seen an acceleration in the speed with which deals were being completed and there was a healthy appetite for new industrial schemes well in advance of their completion.
"We've recently completed the sale of a £1.3million office complex in Nuneaton in just two months – with the site only on the market for a matter of days. 
"The speed of the deal shows that the right type of office space – particularly if it is in a good location and comes with the potential to repurpose to modern requirements – is still very much in demand.
"In fact, we are seeing this across the region, with a healthy interest in well-designed and positioned accommodation very much driving the market because businesses are keen to make sure they have the sort of office accommodation which will bring staff back from remote working."
Tom said the demand for quality was also strong in the industrial sector – though a lack of supply continued to be a problem.
"We already have three out of nine units under offer at the 42,000 sq ft Sucham Park project at Southam in Warwickshire – more than six months before work is due to be completed.
"These units are being built to an excellent specification, with high levels of energy efficiency, solar panels on the roof and electric charging points, and the flexibility to be fitted out to suit the tenants' needs.
"The level of interest is a clear indication that demand for new, high quality commercial space is far exceeding supply in the current market, which is an issue we have been raising for some time. We very much hope that the success of this innovative scheme paves the way for further commercial opportunities across our region."
Bromwich Hardy is one of the country's largest independent commercial property agencies, regularly featuring in independent lists of the most active firms in the industry. 
It was named as the most active agent for Warwickshire for the ninth year running as part of the 2022 Annual EG Radius awards and won four awards from industry data experts CoStar for its work in Coventry and Warwickshire.
You can view all of Bromwich Hardy's commercial property listings on NovaLoca here.