Whozoo – High street retail industry in London and around the UK

Whozoo is the UK's first hybrid commercial estate agency, empowering self-employed agents to have successful careers in the commercial and development property sector – on their terms. We operate in the mass market and treat every property owner with the same respect and professionalism whether your property is worth £100,000 or £10,000,000.
At Whozoo we believe that the 'mass market' for commercial property now deserves a new kind of service. Whether you own a garage, shop or pub or want to invest and seek development opportunities in the lower to mid value property market, this is what we do – we're specialists in all types of commercial property and our agents our motivated to give you more.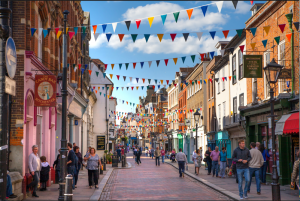 Recently at Whozoo we've taken a real interest in high street retail areas in London and around the UK, particularly in secondary and tertiary locations. UK high street vacant rates, including secondary and tertiary parades, have been a growing concern in recent years. The rise of online shopping and changing consumer habits have impacted traditional brick-and-mortar retail businesses, leading to a decrease in footfall and sales for many high street retailers. High street vacancies can have a significant impact on local communities and economies. Empty shops can lead to a decline in footfall, lowering the attractiveness of an area for both shoppers and investors. Business rates and rental income from vacant shops can also be lost, impacting local government budgets. Addressing this issue requires collaboration and innovation among local authorities, business owners, and consumers to create sustainable and vibrant high streets.
The retail industry is constantly evolving, and the factors that make a retail area appealing to consumers have changed over the years. A nice retail area is one that is well-planned, well-maintained, and offers a variety of high-quality retail options to customers. A not-so-nice retail area, on the other hand, is one that is poorly planned, poorly maintained, and offers little or no variety in terms of retail options. At Whozoo we're fascinated to understand what makes one retail area more appealing than the next, and what can be done to improve footfall and the quality of retail operators.
Location is the most crucial factor when it comes to a nice retail area. An ideal location should be easily accessible and visible to customers. The retail area should be located in a central location that is well-connected to public transportation and has adequate parking facilities. It is also important that the retail area is in a safe and secure neighbourhood.
The appearance of the retail area is another crucial factor that can make or break the attractiveness of a retail area. A well-maintained retail area with clean streets, well-lit storefronts, and attractive landscaping can make a significant difference in the perception of a retail area. In contrast, a poorly maintained area with dirty streets, unkempt buildings, and cluttered storefronts can deter customers from visiting.
A nice retail area should offer a diverse range of retail options to customers. Customers appreciate having access to a variety of products and services, as well as a range of price points. Retailers that cater to different demographics and offer unique products can attract a diverse customer base. A mix of local, independent retailers and larger chain stores can create a vibrant and dynamic retail area.
To improve footfall and the quality of retail operators, a comprehensive approach is required. Some strategies that can be employed include:
Collaboration
Collaboration between retailers, landlords, and local authorities can create a cohesive and attractive retail area. Retailers can work together to create events and promotions that encourage footfall, while landlords can ensure that the retail area is well-maintained and secure. Local authorities can provide support and guidance to retailers, as well as create policies that promote the growth and development of the retail area.
Investment
Investment in the retail area can also improve footfall and the quality of retail operators. Upgrading infrastructure, improving signage, and providing additional parking facilities can make the retail area more accessible and attractive to customers. Investing in marketing and promotions can create awareness and generate excitement about the retail area.
Attracting High-Quality Retailers
Attracting high-quality retailers can enhance the attractiveness of the retail area. Retailers that offer unique and high-quality products can attract a diverse customer base and create a sense of excitement within the retail area. Landlords can attract high-quality retailers by offering competitive rent rates, providing flexible lease terms, and ensuring that the retail area is well-maintained and secure.
Our agents are experts in identifying properties where clients can maximise value. Each property requires a different approach and whether the property is sold on the market, or off the open market, we ensure that a bespoke marketing campaign is developed specific to each individual property.
You can see all properties listed by Whozoo on NovaLoca here.