NovaLoca Disposals Report 2020
In summary our report shows an overall disposals rate of about 17.9% in the 3 months to December 2020 with a 18.4% replacement figure.  Disposals are highest in Leisure and Industrial but the lower replacement rates in Industrial & Land reveal higher demand.  Office shows the lowest levels of disposals coupled with higher numbers of new listings. Disposals seem to be less concentrated on the largest companies than last year and those disposing of the highest percentages of their portfolios are also more than replacing those disposed of.
For our latest disposal report we analysed approximately 21,500 listings in the period 1st September to 1st December 2020. Details and exact dates of deals were not collected but those no longer registered as available or under offer at the end of the period were counted as 'disposed of'.  Across all sectors and companies 17.9% of properties listed at the beginning had been disposed of by the 1st of December.  These disposals were replaced with new instructions amounting to 18.4 % of the original portfolio number.   
Disposals by Property Type
As with last year's results the sector with the highest percentage of disposals is Leisure but there are more properties coming onto the market than the number disposed of. Industrial is in demand with higher disposals but not as many new instructions to replace them.  Retail & Leisure again replacing slightly more than disposed of but both fairly stable.  Land as with Industrial is struggling to replace disposals.  Office appears to have disposed of the lowest proportion, as was the case last year, however, we are also seeing many more instructions come onto the market*; for every 3 office listings disposed of over 4 have replaced them. 
*serviced offices have been excluded from this research; the picture may be different across the whole sector.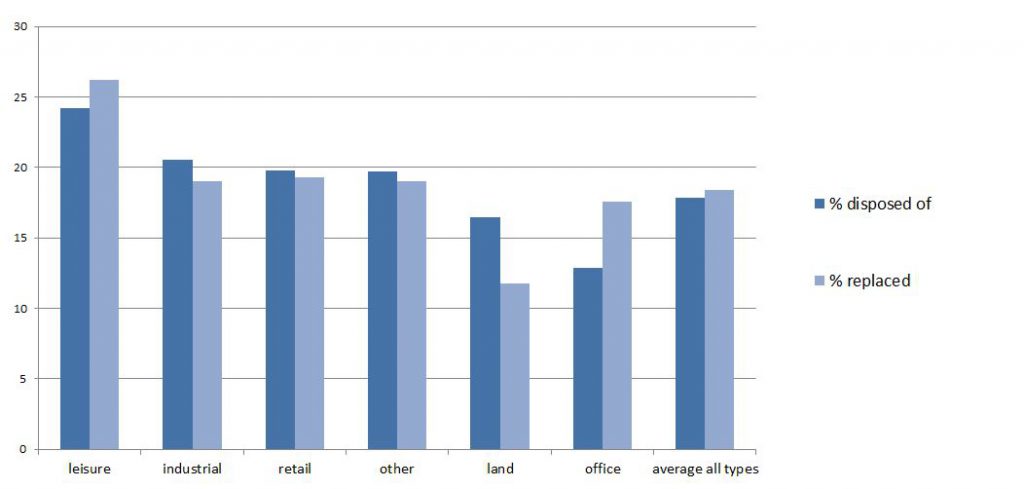 The Top 5 Companies with the highest number of disposals
Disposals appear to be more spread across the board this year. Our top 5 companies account for 28.5% of disposals whereas last year the top 5 accounted for around 37%.
Remaining at the top of our charts is JLL accounting for 6.9% of all recorded disposals, Shepherd Commercial also maintain second place with 6.7%, placed third is Graham + Sibbald accounting for 6.5% , Avison Young in fourth with 4.7% and making into fifth place is Cushman & Wakefield with 4.3%.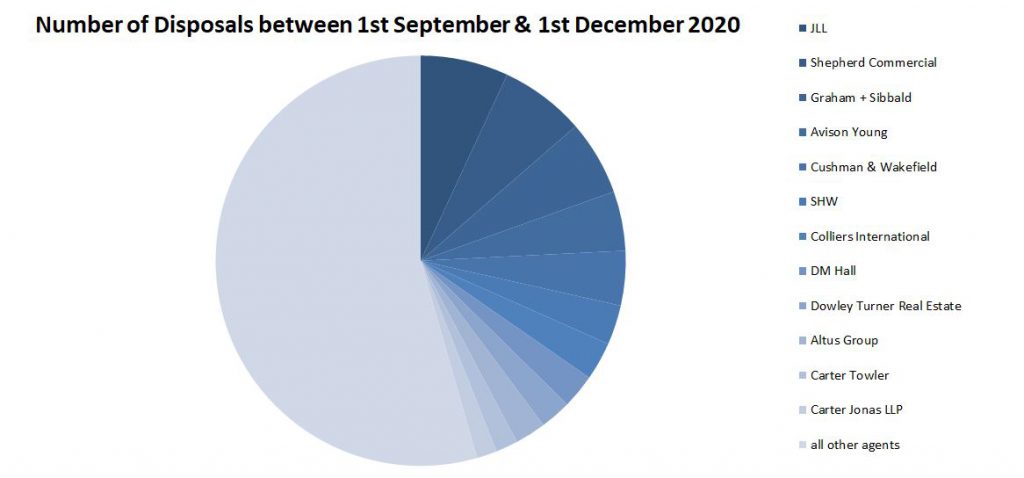 The Top 5 Companies disposing of the highest percentage of their portfolio
We looked at companies with an initial portfolio of at least 25 properties. The top 5 companies disposing of the highest percentage of their own portfolios are: EHB Reeves who take the top spot with 53% of their portfolio disposed of and 32% replaced, Westport Property had 51% disposed of and 42% added back to take second place, Dowley Turner Real Estate are in third place with 48% disposed of and 71% replaced, Falconer Property Consultants had 44% disposed of and 42% added back and sit in fourth place and finally Bowyer Bryce disposed of 43% and replaced 28% to take fifth place.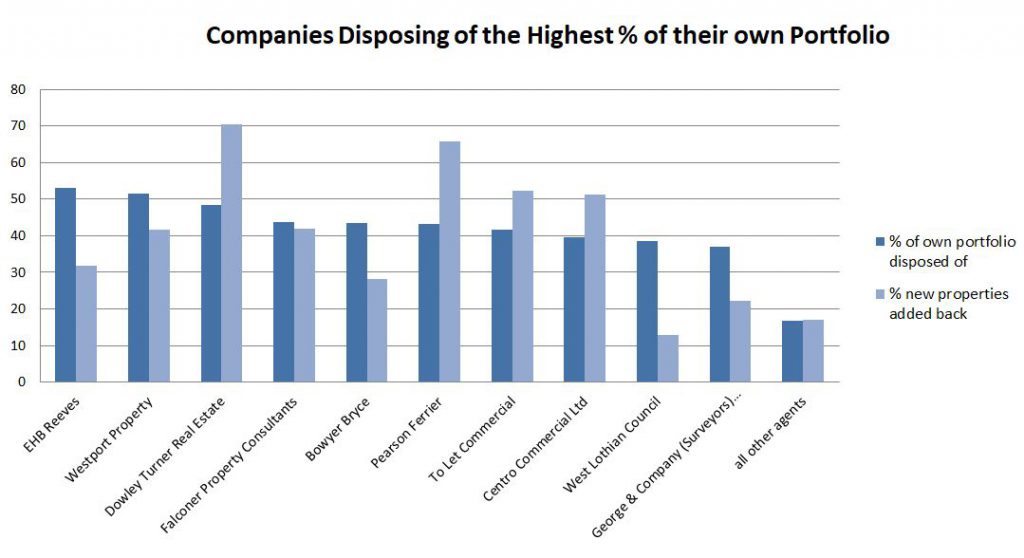 Last year only 1 company in our top 10 had exceeded their original property numbers by the end of the period. This year 4 out of 10 have ended up with many more properties than the number they started with despite disposing of the highest percentages of their portfolios. 
For a chance to feature in the next NovaLoca disposals report make sure you are listing on our website