NovaLoca Analysis of Email Enquiries
NovaLoca conducted research on property enquiries by email for the various property types across the UK, comparing the 6 months October 2019 to March 2020 with April 2020 to September 2020
Overall email enquiries are up 7.5%.  This could be due to email becoming the preferred means of contact. 
We also looked at phone enquiries in the same period and found that these had dropped by about 5% so its likely part of this effect could be a transfer from phone to email enquiries.
Property Types
Industrial, Land & Retail properties seem to be the winners in terms of higher enquiry rates.
Enquiries for Leisure properties seem to have remained about the same.
Office properties have suffered significantly while many people continue to work from home although perhaps the growth of 'digital nomads' could see demand for flexible space grow as employees begin to seek benefits from working with others.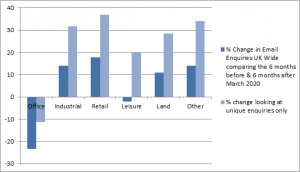 Interestingly when we looked at unique enquiries* (rather than the total number of enquiries, including those made for different buildings in the same area by the same person) this showed less of a marked effect in the office market.  Although fewer individuals were enquiring about offices they were also making fewer enquiries overall.  
For Industrial, Land & Retail properties the volume of enquiries had gone up but the number of unique enquiries had gone up proportionally much more.  
For Leisure properties the volume of enquiries was about the same both before and after March, but we saw that after March there were more unique individuals making enquiries, but making proportionally less enquiries per person.
*Unique enquiries were taken to be from those for one property type within the same postcode area by the same client in either the 6 months before or 6 months after the end of March 2020.
Regional Figures 
Looking regionally across all property types the West Midlands seems to be the most negatively affected overall; however, although the volume of enquiries have reduced the number of unique requirements have stayed about the same.
In the South West again the volume is down but the number of unique enquiries/requirements are up.   If a person enquires about a number of buildings it could show they are more determined to find a location for their business, fewer enquiries per person may indicate they are just testing the water.
With so many changes of employment and business use it would not be surprising that more people are keen to explore their options in terms of commercial space.  The data may suggest that although a lot of different people are making enquiries about property they may not be ready to commit.  We would love to hear from agents as to whether this is the experience on the ground.