Development Plans for Scotland
Last October, we reported on a number of Scottish regeneration projects. Now, we have more exciting developments in Scotland to share – all of which are promising for businesses, residents and employment.
Industrial developer Chancerygate has recently been granted planning permission to develop a 63,000 sq. ft. trade park development in Livingston, Scotland. The site is based in the established Houstoun Industrial Estate, adjacent to the J3 of the M8 motorway. The site will provide nine units ranging from 3,500 sq. ft. to 66,900 sq. ft.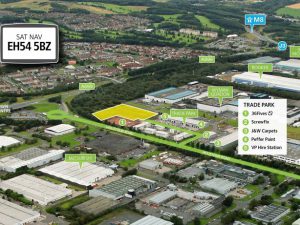 The Grid, Glasgow
In April, M&G Real Estate unveiled plans for a new £100m office development in Glasgow. The development will provide 277,500 sq. ft. of Grade A office space over 12 levels. JLL and Knight Frank have been appointed as letting agents for the scheme. Demolition of the current site is planned for this year and target completion is set for late 2021.
Clyde Gateway, Glasgow
The Clyde Gateway regeneration programme is backed by multiple local authorities and national government and plans to develop 10,000 homes and more than 4million sq. ft. of office, industrial and leisure property in the East End of Glasgow. While the project was announced a decade ago, it appears to have finally kicked into gear, with office buildings springing up and industrial units attracting large international occupiers.