The Strangest Business Ideas that Actually Worked
What do most startups fear when they take that first plunge into the world of business? Is it an ever-changing market? Is the technology evolving too rapidly? Or is it simply a fear that that daring new business idea might not ever take off?
If 2016 has taught us anything, it's that nothing is ever as predictable as we think – and nobody knows this better than the following daring entrepreneurs, whose outlandish business ideas proved that whatever your fears, there really can be a market for anything.
The Cereal Killer Café
For those that like their breakfast sugary, garish and covered in milk, Cereal Killer Café sprung from the cartoonish imaginations of brothers Alan and Gary Keerey and is exactly what you might expect; a café that specialises in breakfast cereals. Boasting a selection that covers the plainest of flakes to sugar-coated, American cereals of frankly terrifying appearance, the Cereal Killer Café has provoked passionate discussion on the gentrification of its home in Tower Hamlets. Nonetheless, the café continues to attract a large following thanks to its cheerful décor, a menu now offering some outlandish hot and cold drinks, and Boris Johnson amongst its supporters; whether this has anything to do with his resemblance to the endearingly daft Honey Monster, however, is yet to be decided.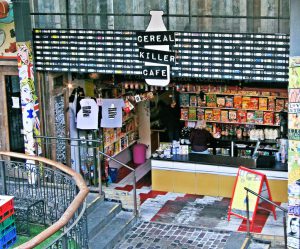 Lady Dinah's Cat Emporium
Continuing the trend of bizarre cafes, Lady Dinah's Cat Emporium is a café that finally recognises what feline fanciers have known all along – that tea tastes better with cat hair in it.
Joking aside, cats are quickly gaining recognition for their therapeutic benefits and have even been introduced to children's reading programmes, cosying up to children who might otherwise have trouble reading. So what cat fancier would turn down the chance to wind down for afternoon tea with a cat elegantly purring away at their ankles? They're less likely to beg for scraps than dogs are, at least.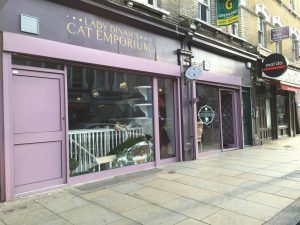 Hoxton Street Monster Supplies
Somehow, being exactly what the name implies just raises further questions for Hoxton Street Monster Supplies. Aimed at monsters looking to sharpen their fangs, tighten the bolts in their necks or stock up on jars of "Escalating Panic", this Gothic-style London shop offers something quite unlike anything on the market.
Of course, aiming at a market that's entirely fictitious isn't the cleverest of business strategies, and Hoxton Street Monster Supplies is actually a gift shop of sweets, books and clothing, all cleverly disguised as monster accessories; an example of how an imaginative spin on a relatively innocuous market can really capture an audience.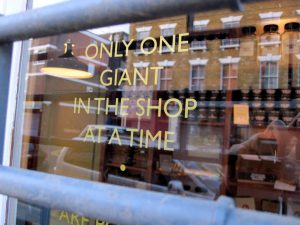 Ed Debevic's
A possibly disastrous experience for the uninitiated, Ed Debevic's resembles an ordinary American Diner – which, back in the 50's, it was.  Now, however, it's an anarchic rebuttal to America's standards of service; the diner's staff are rude, sarcastic and – most importantly – very, very funny. Having gained a boom in popularity thanks to a waitress' perfectly on-form performance in a viral YouTube video, Ed Debevic's sounds like a brilliantly-realised slice of catharsis. Just don't bring the parents.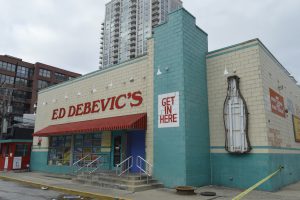 Interested to see how other businesses are doing things differently? Check out 5 offices that epitomize imagination.
Looking for business premises of your own – however outlandish your ideas? Search for the perfect property at NovaLoca.com