Entrepreneurs: How do they benefit commercial property?
The trend of start-up businesses using pop-up stores and brands who have found fame online expanding to a physical location has grown steadily over the recent years. Last week, NovaLoca looked into the move that online retailers have been making towards the "high street". Through our research, we saw a huge rise in online retailers expanding back out to a physical location despite the growth in strength of the online brand in the modern day.
The popularity of the word "entrepreneurs" stood out to us the most during our research. Many brands have found fantastic success by starting their business from a parent's house or from a borrowed food van parked up in their local town centre. In 2016, there are so many more ways for a person with an idea to launch their brand, product or business than there ever has been before.
Pop-Up Stores and Entrepreneurs
Pop-up stores are everywhere at the moment as they offer entrepreneurs the opportunity to grab a wider customer base and promote their brand without breaking the bank. The concept is still relatively new but has boomed in popularity over the recent years.
Landlords and owners renting out the spaces from as little as £5 a day to £450 a day allows people who normally sell goods online to use retail spaces to promote themselves to the offline audience. The growth in the use of these types of spaces shows that the commercial property market will start to see an increase in people letting retail space.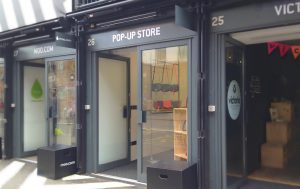 Co-Working Offices and Entrepreneurs
Co-working office spaces promote a style of work that involves a shared working environment and independent activity. Just like the idea of a pop-up store, a co-working office allows an individual or a SME to rent 'desk space'. Renting desk space rather than running a whole office allows entrepreneurs to avoid costs for broadband or printers.
Another recent trend of home-working or flexible office hours has added to the increase of the need for co-working office spaces. Workers can use the space when they wish and don't need to stick to the standard 9-5. A further office trend in the modern age means that many businesses are contactable 24/7 which means office workers need the use of a flexible office.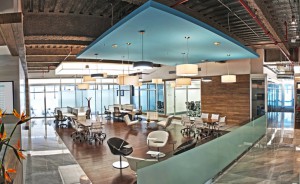 2016 and the future
The rise of the entrepreneur is more than just a trend. Following the success of others, we will also see many brands invest in a pop-up store as well as the already established brands expanding their offline presence into an office, shop or warehouse. This is excellent news for all those in the commercial property world.
Now is the best time to rent out your office, shop, studio, warehouse space…! Click here to advertise your property with NovaLoca
Looking to kick start your business offline this year? Make your dream come true and find the perfect commercial property by clicking here
Save