Heathrow have issued artist images of third runway, new terminal and Business Park
Heathrow airport have released artist impressions of how the proposed third runway will look. Facilities include a new central terminal, hotels, and a business park.
The North West runway will be two miles long and big enough to accommodate even the world's largest aircraft. It is believed that the "new Heathrow" will provide up to 740,000 flights a year which is enough to compete with Paris, Frankfurt and Amsterdam.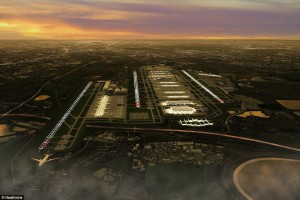 Artist's impression of the to the North West area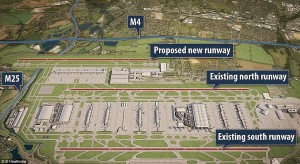 The runway is forecast to add £147bn to the economy from now until 2050, which includes 75,000 jobs to be created in the immediate and surrounding areas by 2030. New research, released by consultancy Quod on 05/10/2015, shows that up to 1 in 4 (28%) of the new manufacturing jobs generated by Heathrow expansion would be based in the Northern Powerhouse. More broadly, 85% will be created outside London and the South East.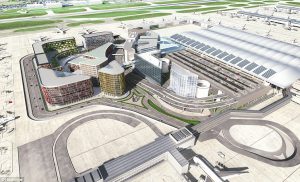 Plans for the new central terminal and extended business park
John Holland-Kaye, chief executive of Heathrow Airport said: "Expanding Heathrow will keep Britain as one of the world's great trading nations, right at the heart of the global economy."
The airport stated: "Our proposal compliments existing plans already in place to better connect Heathrow and the UK. This means that by the time a third runway is operational, new rail services to the north, east, south and west are due to be delivered." The airport's rail capacity is set to treble from 18 to 40 trains (equivalent to 5,000 to 15,000 seats) an hour.
David Cameron has promised that by the end of the year, he'll give his final decision on the expansion plans, backed by the Airports Commission earlier this year.
Save