The Great British High Street revival
The picture of British high streets in 2014 is often painted as one of empty boarded up shops, desolate streets and all but bookmakers and discounts stores left for the few shoppers that venture away from online shopping.
The reality however, could be quite the opposite. Whisper it quietly, but in some quarters it seems the high street is undergoing somewhat of a rebirth and even thriving in certain areas.
While Woolworths is long gone and many other retailers have suffered devastating store closures, the empty shops are increasingly being filled by a plethora of independent retailers, coffee shops, boutiques and other niche outlets. In fact, research has shown that last year 44 new independent stores opened every day.
This revival is partly down to the various schemes that are working to bring the heart of many towns across the country back to life. The Healthy High Streets Campaign is a group striving to help town centres realise their potential, while the story of Rotherham's high street is an example of a location that has truly bitten back against the widespread decline.
Retail expert, TV personality and government advisor Mary Portas has led the town back to prosperity with a range of revolutionary schemes. Not only has the number of boarded up shops been reduced, but over the last three years, 86 new businesses have opened for the first time. 16,000 Rotherham locals have also registered for a loyalty scheme employed by around 100 shops in the town, creating a community inspired shopping experience.
On the Rotherham revival, Portas said: "I'm bursting with pride at everything that's been achieved in Rotherham. The town team have done an extraordinary job increasing footfall and reducing vacancy rates, but most of all producing a place people want to shop in and feel at home in. They have huge competition from some of the UK's biggest shopping malls right on the doorstep, but they are bearing out the national statistics that people prefer high streets."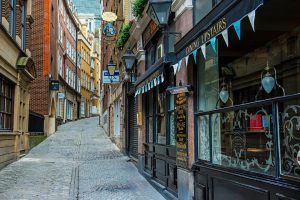 The rise of internet shopping has been partially attributed to the decline of the high street. However, what we are seeing now is retailers merging the physical and online sides of their business to suit the needs of modern shoppers. Click and collect services are ideal for online shoppers who would prefer to pick up their orders rather than wait for a delivery. A prime example of this is online auction website eBay's trial of allowing users to collect their orders from a selection of suppliers from Argos stores.
By embracing online shopping and adapting to this shift in the way people shop, retailers are able to create a far more immersive customer experience. This, along with engaging shoppers through social media, helps to give people a far more enjoyable shopping experience.
It is not only retailers who are adapting to bring shoppers back to the high street. Some councils are working to make town centres a friendlier, safer and more accessible environment. By having the right balance of modern and historic feel, as well as a good range of retail outlets, the aim is to make the high street a sociable location where people want to be again. Throw in improved parking facilities and Wi-Fi access and high streets can be equipped to meet the demands of modern shoppers.
A true recovery may not be entirely possible, with many people preferring to do their shopping online, but attempts are underway across the country to revive the British high street. As a thriving town like Rotherham shows, it's not about dwelling on the past, it's about evolving with the times.
Save