Thoughtful Office Design Optimised for Long-Term Social Distancing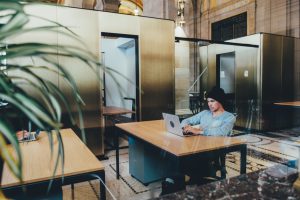 As we look ahead to a time after global lockdown, there's no denying the office space as we know it is in for a long-term upheaval as we find new, safer ways of working without compromising productivity. 
Here, we're exploring a handful of office design proposals for a workspace primed for social distancing in the months and years to come. 
Hygienic storage options
Any office space has some form of storage option – whether this is a coat rack, personal lockers or set of desk drawers – and each of these could provide a hotbed for a disease like coronavirus to spread. However, with some small and simple updates, you can ensure staff have the storage they need while still staying safe.
Take lockers for example. Investing in a range of storage lockers that come with an antibacterial coating means you could provide your team with a space to store their belongings, safe in the knowledge it's protecting them as well as their personal effects. If they're big enough, this means one storage area per team member and dramatically reduces the risk of cross-contamination caused by people sharing the same storage.
Social distancing markers 
You've undoubtedly seen yellow and black hazard warning tape adorning walkways in your local supermarket or around swing sets in the park. Instantly recognisable, this type of tape draws the attention of a passer by – which is exactly its intention. Implementing this into the workspace is the ideal way to ensure employees are constantly reminded about social distancing rules – whatever these happen to be at the given time.
With your desks separated, you can use the tape to mark out safe zones for each employee around their workstation. You can even utilise this in the tea room or lift areas to help everyone keep social distancing at the forefront of their minds at all times. It's inadvisable to spend a significant amount of money on signage which displays distance rules as this might continue to change, but the tape itself can act as the reminder everyone needs and can be removed or replaced with ease.
Handy sanitising solutions
While there are several things you can do to minimise the risk of infection in an office environment, some spaces will need to be shared by multiple people – the kitchen and bathroom areas being the most obvious two. So, as well as ensuring these rooms are more regularly cleaned, you'll also need to provide ample sanitising solutions, so that staff members can be sterilising their hands after touching any doors, taps and cupboards in communal areas.
It's best to have bottles of sanitiser and cleaning wipes stationed throughout the office so that they're not being shared by multiple people and so that everyone can access them with ease. If you carry out cleaning duties yourself, efforts should be increased to daily deep cleans. If you're in a serviced building, enquire about how this will work while social distancing is still required and express your desire for this to happen more regularly.
Distanced desks and workstations
For now at least, it's time to say goodbye to hot desking in favour of more isolated workstations for each individual. Depending on the nature of your work, this will prove trickier for some than for others, but right now, it's no longer practical to be allowing multiple members of staff to share the same workspace over a number of days – especially if the area isn't being thoroughly cleaned after each use.
For times when team members need to be looking at the same screen, they might find it much more convenient to screen share. This way, they can be at opposite ends of the room or even working remotely and be able to access the same presentations or documents at the same time. This means that there's no need for efficiency to suffer in the name of social distancing – you can have it all!
Ventilated workspaces
Ensuring your workspaces are ventilated will be a huge factor as we look to a more socially distanced future. You'll want to be making sure as much outdoor air is circulating through your rooms as possible, while not posing other safety risks to members of staff by doing things like having windows open too far.
This is why carrying out an assessment of your building or buildings is a good starting point. It will allow you to view areas in a different light – starting by thinking about how much airflow each space currently benefits from and what's needed to help minimise the spread of germs.
You can read more on office ventilation here >
Outdoor communal spaces
If you're lucky enough to have an outdoor space, this could provide the perfect communal area for you and your team. Whether this is for lunch breaks, daily team meetings or just a place to enjoy each other's company without being confined inside of a building, now really is the time to make the most of the outdoors – weather permitting!
With a touch of TLC and some smart design updates, you can turn an outdoor space from bland and boring to fashionable and functional. Add some spaced out garden benches to provide socially distanced seating and indulge in a spot of DIY to introduce some class with stylish garden tiles and you'll be left with an outdoor area that's every bit as professional as you want it to be.
Don't be daunted or overwhelmed by bringing your team back into your office. Start by accessing the right information and take it from there, one step at a time.
Author bio: 
Suhayl Laher works at Tiles Direct, one of the UK's largest independent tile distributors and retailers – bringing design inspiration to homeowners, architects and developers.