The Best Free Apps for Workplace Efficiency
There's always an app for something. Fitness, fun and Facebook are easy sells for the smartphone savvy, but sometimes having 'Candy Crush' within arm's reach isn't good for your workplace productivity.
Luckily, savvy developers have created these helpful tools to give your smartphone more of an office workout, helping you stay organised, speed up mundane tasks, and even scan pages for those times when the ancient office scanner is chewing up the paper again.

30/30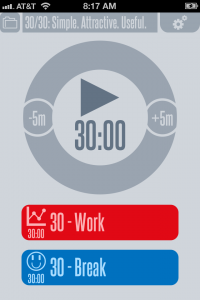 If you find that time seems to slip through your fingers, 30/30 might just tell you where it all went. 30/30 makes you schedule the day manually, designating your own, realistic time limits for specific tasks. Once you're ready to start the day, simply tap the screen and the timer ticks down, rolling through your set tasks and chiming gently as each new one rolls around. Granted, it won't actually do any of the hard work for you, but it's an easy, unobtrusive way to manage your life if you feel yourself overwhelmed on those manic Mondays.
Genius Scan

Have you ever wished you could carry your scanner with you wherever you went, lamenting the world's cruel lack of pocket-sized scanners, or scanner-sized pockets? Genius Scan shares your incredibly specific vision of a better future by emulating scanner functionality within your smartphone's camera.  You can save each individual scan into a series, publish collections as PDFs, and, with the paid version, save copies to the cloud for access over multiple devices.
Slack

Slack is designed to make workplace communication, both in and out of the office, as quick and easy as possible. You can organise message groups based on teams and projects, share documents, and sync to a number of your social media apps. Of course, your excuses for missing those important meetings will need to be more elaborate from now on, but it's a small price to pay for convenience.
Soulver

Soulver is a calculating app that takes your rough financial notes and intelligently turns them into calculations. Whilst it doesn't have the extensive features of Microsoft Excel, it's a palm-sized middle-ground between a scientific calculator and Excel's formula system. It also responds intelligently to text; simply typing "X % of Y" will have Soulver make exactly that calculation. It's a more personal, adaptive method than a scientific calculator, and simplifies formulas into Laymen's terms for those of us who spent their GCSE Maths sessions staring out of windows.
Swiftkey
You'll never replace the affirming click of a real, mechanical keyboard as far as we're concerned, but that doesn't mean you can't make your flat, smartphone keyboard work for you. Swiftkey lets you customise and configure your touch-screen keyboard as you see fit, providing swipe-typing, variable keyboard layouts, and an intelligent predictive text system that can best be described as 'eerily precise'.

…And Finally…..
Okay, so Tetris Blitz isn't going to improve your work one bit, but this enduring, beloved puzzle game will keep your brain ticking over during those short coffee breaks. Besides, Tetris may thicken the cortex and improve mental efficiency, according to the Mind Research Network in Albuquerque. That's our excuse, anyway, and we're sticking to it.
Want more easy to-use-tools to help with your marketing? Check out these 5 social media tools that make online marketing easier.
Save
Save
Save