An exciting time for the retail market in Leeds!
Leeds has become a prime location for business investment and expansion with an economy worth over £50 billion pa, rising employment rates and major plans for improved connectivity.
In terms of retail development and investment, 2013 saw the opening of the £350 million Trinity Leeds retail and leisure development, the largest of its kind anywhere in Europe, and the 13,500 capacity first direct Arena. In 2014, work started on the £600 million Victoria Gate retail development which is scheduled to open in just under 3 weeks and will bring a flagship John Lewis store to the city.
But what else is happening in the Leeds retail market that's attracting investors and occupiers to the area?
Former Brewery Regeneration
Major regeneration plans to transform a former city brewery site into offices, homes and leisure space have very recently been unveiled. The property division of the IKEA Group 'Vastint' bought 22 acres of the former Tetley Brewery site last year from Carlsberg UK and have now revealed plans for the first phase of development.
The site, based in the South Bank area of Leeds city centre, would incorporate 915,000 sq ft of offices, circa 1,000 homes and a 400-bed hotel in Phase One. In addition, about 161,450 sq ft would be given over to shops, restaurants, bars, gyms and cultural uses.
M&S at Central Square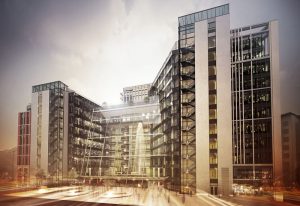 Marks & Spencer are currently the largest corporate brand to find a home at Central Square. M&S will occupy a 4,696 sq ft store on a 15 year lease secured through M&G Real Estate. The property investors, alongside their development partner Marrico Asset Management, have also secured Caffe Nero in a 1,733 sq ft unit on a 10 year lease. They will be joined by accountancy professional services network, RSM, which has signed a 15-year lease for 25,424 sq ft and will relocate 350 of its staff to its new office in June 2017.
PPB move to Cross Green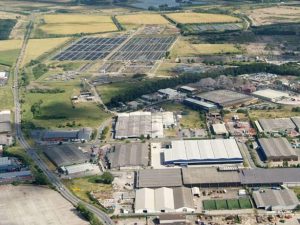 PPB is an independently owned distributor and converter of point of purchase materials. The company is set to expand its Leeds operations after acquiring the former Q8 Lubricants unit on Cross Green Industrial Estate. Acting on behalf of Aviva Investors, Bilfinger GVA completed the sale of the unit.
Graham Cheesebrough, finance director of PPB, said: "We are delighted to have found excellent new premises in Leeds as the next stage in our strategic growth plan. With good road links, it provides us with a great base to better serve our UK customers.
To keep up-to-date on commercial property news from Leeds, click here!
To search for retail properties in Leeds, click here!
Save
Save