Get started with social media marketing for your business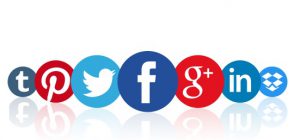 What platforms should I use?
There are so many different social media platforms out there with various different uses. Whether you will be running your pages on your own or whether you employ someone to do it, you won't have time to use them all.
Twitter
As a business, the best platform for you to use will be Twitter. The Twitter feed refreshes so much from its millions of users that you can keep up with relevant news at it happens and interact with multiple people / customers or other businesses at one time.
Facebook
Facebook works great for local businesses and start-ups. It's easy for people to find you, you can update with as much text as you'd like and include images and videos. Video marketing is becoming very important and creates great engagement with customers and potential customers.
Instagram / Pinterest
If you run a business with popular visuals, such as a restaurant or a gym, you can do extremely well on Instagram. It's worth creating an account to reach an entirely new audience. Use your hashtags and connect with people with interest in your products.
Instagram can be especially useful if you have an online store and want to reach people who need / want your products.
Expanding your followers
There are many ways to drive followers to your social media accounts. You can advertise your platform handles within your business property on flyers, in your window or on chalkboards. You can send other local businesses or newspapers links to your pages and ask them to advertise this for you.
The best way to reach others is to advertise new social media platforms on your existing social media platforms. Let your already loyal followers know that you have other places for them to connect with you.
When is the best time to post?
Research has been completed many times as people wonder "when is the best time to post?!" The best time to post is when your audience is online. With helpful tools on your Facebook page such as the tab named "Insights", you can see who your audience are and when they use Facebook. There's a similar section of Twitter which helps you do the same.
Social media calendar
Once you've figured out the best times to reach customers, you should start by planning your posts for the next month ahead. There are some easy to use templates that you can download or you can create your own on Excel!
Comment below with more helpful tips or if you have any questions, please don't hesitate to ask!