Has Britain replaced the pub with the coffee shop?
The change in consumer habits to favour coffee shops as a meeting place in the UK over recent years can be seen in town centres, village high streets and more recently in drive-thru's and retail parks. It is almost impossible to visit these places without seeing a Costa, Caffe Nero or Starbucks. Not to mention the Wild Bean Cafe's and the Patisserie Valerie's that you can't avoid at service stations.
Stats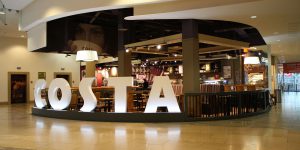 According to research from Savills, the number of nationally operating coffee shops in the UK has grown by 39 per cent since the end of 2013. In Scotland, they have almost doubled in two years (up by 45 per cent). The UK now has over to 5,000 nationally operating coffee shops. This doesn't even include all of the independents that have set up shop in villages, town and cities around the UK.
Research from the Local Data Company at the end of 2015 counted all the locations of Caffe Nero, Costa, Greggs, Pret A Manger, Starbucks Coffee and Wild Bean Cafe and confirmed there are now more than 5,000 major coffee shop branches in the UK. Costa has over 1,500 stores which is more than twice the amount they had in 2010. Wild Bean Cafe has grown from 11 stores to over 280 and Starbucks has grown by a fifth since 2010 to 719 locations.
Consumer Trends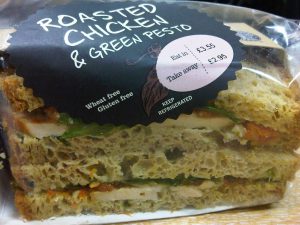 Along with the coffee trend, the market has started to cater to popular dietary requirements such as gluten-free, wheat-free and vegan products. Popular coffee outlets such as Pret à Manager, Costa and Starbucks now have a wide range of these food products available. Some have even begun to offer soya, almond or coconut milk as these products become increasingly popular in diet trends.
Coffee shops are a relaxed, casual and sociable place to meet with friends, family and colleagues. Instead of meeting down the local pub for a pint and a packet of crisps, it's seems Britain's are meeting down the local Costa (they may have a choice of 2 or 3) for a flat white and a panini.
Going out for lunch with colleagues or working remotely from a coffee shop is also a fast growing trend. We challenge you to walk into a busy Costa and not see a laptop open! Most coffee shops have free Wi-Fi and an atmosphere designed for creativity.
The Future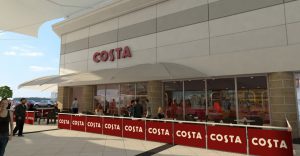 Chains and independents are keeping up with consumer trends and ensuring that their environment and products are relevant to what the modern consumer wants. This is why coffee companies are growing so fast and show no sign of stopping!
This map from The Telegraph shows the amount of major chain coffee shops spread across the England at the end of 2015: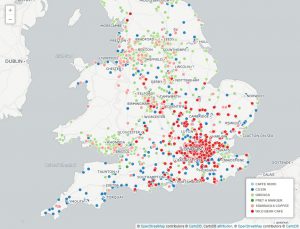 To find retail space in the UK to start up your own coffee shop, click here!
Save