Top 10 Magical Christmas Markets in the UK
'tis the season to be jolly! It's now less than one month until Christmas and once the madness of Black Friday has passed, many will start to enjoy the more traditional festive activities the UK has to offer.
A popular festivity for the people of the UK is to visit a Christmas market. Below are what NovaLoca believe to be the top 10 Christmas markets to visit in 2015:
Edinburgh's European Christmas market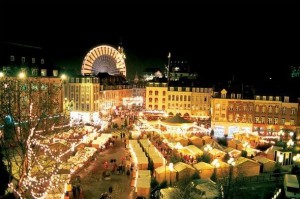 The first of our Christmas markets takes place between 20th November and 4th January. For the past 20 years, this popular market has been held in its picturesque setting below the Mound (an artificial hill in central Edinburgh). The market offers a unique festive experience with craft fairs, artists and gift shops including festive wooden toys, meaty sausages and Glühwein (mulled wine).
The market is open from 10am – 10pm every day. On Friday 20 November the markets open at 5pm.
Leeds Christkindelmarkt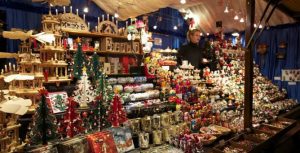 This Christmas market is known as "a little piece of Germany in the heart of Leeds City Centre". As one of the most established German markets in the UK, this is very popular and includes traditional wooden stalls, festive greenery, a Christmas carousel ride and a unique continental festive atmosphere. The popular Frank-furter Scheune, Kuh Stall and Alp Chalet Bavarian eatery allows visitors to sample the very best in authentic German food and drink
The market is set in Millennium Square and is open from 13th November – 20th December.
Exeter Christmas market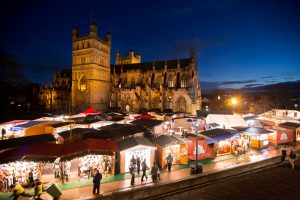 Set on the beautiful grounds of Exeter Cathedral, the Exeter Christmas market provides a great variety of stalls for visitors to explore. Shoppers can find unique gifts for loved ones whilst they enjoy something tasty to eat, washed down with a mulled wine. There are over 50 traders at the market offering a variety of foods and products from around the world including roast hog, Belgian chocolate, Baklava, crepes and specialist cheeses and meats. Local retailers make up 20% of the traders.
The market is open from 19th November – 19th December.
Swansea Christmas Market and Waterfront Winterland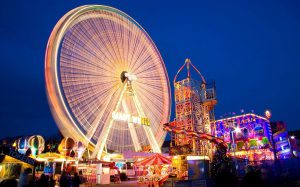 The Museum Park in the grounds of the National Waterfront Museum has been transformed for the 10th year of Waterfront Wonderland. Visitors can enjoy ice skating on the Admiral Ice rink which includes a children's rink, visit Santa's Grotto, enjoy the festive family funfair and eat in the Alpine dining cabins. Also returning for 2015 is The Big Wheel.
The festivities started on 13th November and will last until 3rd January.
Manchester Christmas market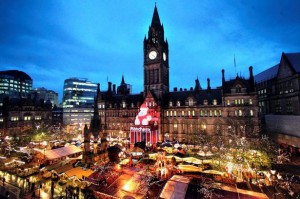 There are various different Christmas markets located all over Manchester including Albert Square, Brazennose Street, St Ann's Square, Exchange Street, New Cathedral Street, The Corn Exchange and Corporation Street. With over 300 stalls and a huge choice of delicacies from all over Europe, the Manchester Christmas markets are world famous. Visitors can enjoy Dutch mini pancakes or Hungarian goulash whilst they shop for crafts, jewellery, clothes and toys.
The markets are open from 14th November – 21st December.
Oxford Christmas market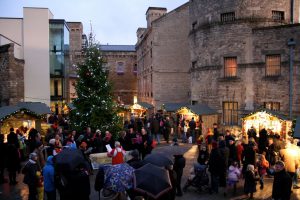 Visitors to Broad Street in Oxford can enjoy the sound of choirs singing Christmas carols whilst they shop the market trader's unusual handmade gifts, colourful decorations and wooden Christmas stalls.
The streets will smell of mulled wine and cinnamon from 10th – 20th December.
Newcastle Continental Christmas market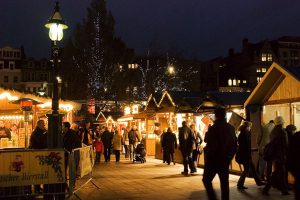 In the vicinity of Grey's Monument, visitors will be able to enjoy currywurst from Germany, waffles from Holland, paella from Spain and sweets from France. The market pulls huge crowds to the stalls from Germany, France, Belgium, Holland Spain which are packed with unusual Christmas gifts.
The market is open from 14th November – 29th November.
Belfast Christmas Continental market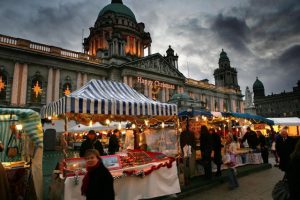 The festivities take place in Donegall Square and include stalls from Germany, Spain, France, Italy and many from local traders. The market has a Santa for families to visit with their children. Among the retail delights, visitors will be able to enjoy a range of products such as cheese, Italian nougat, Belgian chocolates and French tarts. There is also a large refreshment area which includes a continental bar and Lavery's Traditional Irish Bar with live music.
The market is open from 14th November – 20th December.
London Hyde Park Winter Wonderland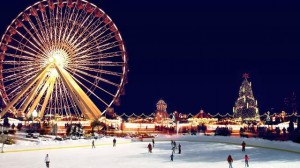 Known as London's most spectacular Christmas destination, people travel from around the UK to visit the world famous Winter Wonderland. Visitors can enjoy a vast variety of food and drink including German sausages, crepes and Galaxy hot chocolates. There are a variety of stalls to visit, all in different area including unique gifts, Barvarian style wooden chalets. A very popular attraction is the ice bar along with the large ice skating rink. The wonderland also includes a fire pit where visitors can toast marshmallows, a Swiss chalet restaurant, street food, a circus, theme park rides and Santa Land.
Experience the wonderland from 20th November – 3rd January.

Birmingham Frankfurt Christmas Market & Craft Fair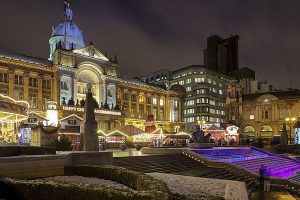 The markets have run for over a decade and now have over 180 stalls. Birmingham claims this to be the biggest Christmas market (not to be confused with wonderlands) in Britain. The stalls include different gifts such as crystal lamps, Sounds of Nature, hand-crafted leatherwork, rugs and more. Alongside this the food stalls sell pretzels, schnitzels, bratwursts, and knoblauchbrot which can all be washed down with a German beer, mulled cider or tasty hot chocolate.
Stalls are open from 12th November – 22nd December.
Save
Save