"We've seen a huge demand for these trade counter type units" – NovaLoca speak to James Page of Page Hardy Harris
NovaLoca caught up with Page Hardy Harris Director James Page this July to discuss the commercial property market in the Thames Valley and the South East – and it's fair to say that things are looking positive.
With the economic recovery well underway, James thinks the commercial property market is definitely feeling the benefit: "There is a general air of confidence, which is a result of built up demand from companies that have survived and prospered during the downtimes."
Companies who had been keen to move, but were nervous to do so, are back in the market and looking to buy or lease space as confidence is high and there is more funding available. Page Hardy Harris is seeing that some sectors are more in demand than others: "I think the strongest sector at the moment is the industrial and trade counter sector, especially for us in Bracknell. We've seen a huge demand for these trade counter type units. It's a good story to tell and now there's very much a shortening of supply."
Trade counters have been growing in popularity and James sees this as ultimately a new method for certain retailers to sell to trade.
"The trade counter business is an interesting case in point because it is really just retail in disguise. Companies that would otherwise quite like a shop front are making use of the loophole were you can sell to the 'trade' from industrial buildings."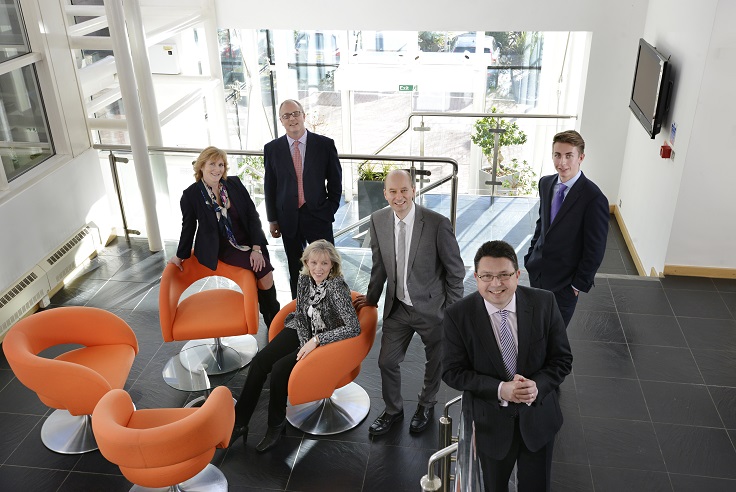 With offices in Bracknell and Maidenhead, Page Hardy Harris is a commercial agent operating within the retail, industrial, office and leisure sectors, so James is well placed to reflect on each element of the market.
But is James' area feeling the benefit of the London recovery?
"You tend to get a knock on effect from London that naturally radiates out. London is very much an office market and you're finding that the office market in London in very buoyant. It's a very tight environment where it is very difficult to build more space and supply is very tight and restricted in the places that are in demand."
The high demand in London can work in the favour of areas outside of the City, with naturally cheaper rents and more building space being a flexible alternative to locating in the capital.
"The office market in the Thames Valley has been very over supplied historically and it has been much easier to build. Examples of out of town schemes are Green Park and Thames Valley Park outside Reading and Amen Corner outside Bracknell."
Another trend that has been emerging recently is the conversion of old office space into residential property, something that we previously looked at on the NovaLoca blog. The government recently made it easier to convert commercial property to residential use and it is something that Page Hardy Harris has increasingly seen in their area. James also gives an explanation as to why the scheme has become popular.
"In the '90s there was such an enormous oversupply of office space that then knocked through into the '00s, where companies had merged and grown and moved into the out of town schemes, leaving older town centre buildings. This combined with the recession only compounded the problem. Not only that, but then the 'R22' issue occurred, which meant that a great deal of older air-conditioning systems with a soon to be outlawed refrigerant needed extensive refurbishment."
"These buildings then sat redundant with limited supply and with the promise of rents in the low to mid-teens, landlords were understandably reluctant to spend £40-50 per square foot on refurbishment, especially when they were perhaps still holding historically high book values for buildings."
The residential market in the UK is currently experiencing a high demand for property and the government has taken advantage of the vacant office units by making the commercial to residential conversion process easier. It is hoped this will mean a reduced demand for new residential development and less vacant commercial units.
It is a move that James sees as a popular and financially beneficial one: "It's happened a lot, particularly in Bracknell and Reading, where these buildings are suitable to do it. If you can buy a building for £50 a foot and then spend £100 a foot on turning it to a different use and it's worth £300 a foot, then it is happy days!"
With Bracknell, Maidenhead and the Thames Valley experiencing a positive first half of 2014, it's only natural to wonder whether the growth will continue in the remainder of the year and into 2015. But James thinks the market will only improve in the coming months.
"I think the market will continue to improve. There's a tightening supply, so you're going to see rent starting to push up and you're going to run out of the top grade office space in not too long."
Page Hardy Harris has seen this growing confidence in the market as an opportunity to expand. They have recently taken on a new partner in the business, Mark Harris, who has 25 years of experience in Maidenhead, where they have also opened a new office. What's more, with Cross Rail building on Maidenhead's popularity as a business location, Page Hardy Harris has hit the ground running and will adding to their staff in the new office towards the end of the summer.
With real optimism surrounding the commercial market due to the strong first half of 2014, there is no reason to suggest that the market won't continue to grow in the future.
View all of Page Hardy Harris' listings on NovaLoca by following this link, or check out their website here.