Four ways to make your workplace more inspiring and comfortable
Have you noticed that more and more companies are striking out of the 'norm' and making creative decisions that fundamentally change the tone in their workplace?  If you're keen to spice up your office by making it a more inspiring and stimulating place to work, here are a few practical tips on how to do it.
1.     Comfortable staff will be more productive staff
You and your staff spend so much time in the office, it's important to make sure everyone is comfortable.  There are two sides to this: health and safety and creativity.
A whole industry has grown up around health and safety at work and it's serious business.  Musculoskeletal problems alone, including Repetitive Strain Injury (RSI) are, according to BUPA, the biggest cause of ill health and sickness absence among staff in the UK, so it's worth making sure your office furniture and technology are positioned and set up to minimise the risk.   We can't begin to do justice to this subject in this blog but if you need to familiarise yourself with the basic health and safety requirements for business, the Health and Safety Executive's 'Health and safety made simple – The basics for your business' might be useful.
Now on to creativity.  If you can create a working environment that is comfortable, safe AND inspiring, you'll be giving your staff the tools to maximise their productivity.
Creative businesses tend to be particularly good at providing fun spaces for brainstorming or informal meetings.  Splunk's London office is a good example, with its quirky design features (the work of office design company Morgan Lovell) including this Dr Who Demo room.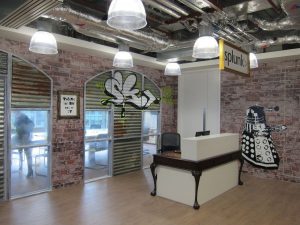 But there are simpler and less expensive ways injecting creativity!
Sofas are an increasingly common fixture in the work place, largely because they encourage impromptu meetings but also because they set a different tone for any 'meeting', free from the constraints of a standard meeting around a table.  A similar result could be achieved in the kitchen, where many companies have chosen to inject more light and colour with bright coloured furniture and fittings.
What could you do differently or better?  Where can your staff go for a change of scene while working?  Do you have any informal space where people can grab a coffee with a colleague or brainstorm?
2.     Healthy body, healthy mind
Our recent post "The office as a place to work, rest and play" talked about the features the Google has planned for its new office in Kings Cross – a running track, for example.  This is a step too far for most companies but there are simpler, more affordable ways of encouraging and catering for a healthy living style.
adapt outdoor space so that it is suitable for impromptu meetings (weather permitting) or lunchtime

review the menu in your canteen (if you have one) to ensure it offers plenty of choice, with healthy options?  

provide plenty of bike racks, to encourage staff to cycle to work

partner with a local fitness company/instructor to offer an exclusive deal on classes for your staff
3.     Breathe light into the workplace
It is proven that people work better in natural light and as Alain de Botton argued in the Architecture of Happiness, the buildings and space around us have a direct effect on our feelings of wellbeing.
One way of offering natural light is to choose premises that use glass throughout the building.  Few of us would sniff at the prospect of an office like the one shown below.  Alas, most of us are not so lucky.
Increasing the flow of natural light is impossible in some buildings.  So what else can you do to create an illusion of light and space?
consider an open-plan layout 

make sure you've got desk lamps as well as fluorescent overhead lighting

avoid dark colours on the walls and floor

keep blinds open/up when the sun is not too bright
4.     Last but not least: introduce some fun!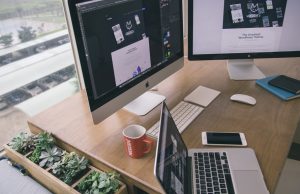 OK, so a slide between floors is not always the best option for the average office set-up (!) but bringing a bit of fun into the workplace seems to be catching on.
There are lots of ways of adding a fun twist to your own office space – some companies achieve it with striking architectural design, or thought-provoking artwork on the walls.  Others go for a pool table in the corner or they give their meeting rooms light-hearted names rather than just 'room 1'. The choice is yours but there is a serious point to this apparent frivolity; by injecting a bit of humour, you can create a sense of freedom, which will inspire creativity, encourage employees to air their opinions and, ultimately boost productivity.
What changes could you introduce without breaking the bank or upsetting the balance?  What's worked for you?